BIRTH OF AMERICA BOOKS (tm)
BOLD WOMEN, COLD GOLD, HARD MEN & HOT LEAD
[1869-1879]
REAL PEOPLE, TRUE STORIES
HISTORICALLY ACCURATE AND FUN TO READ
(They're written like novels with dialogue based on journals, diaries and newspapers)
HISTORY AS IT HAPPENS(tm) IN HIGH ACTION AMERICAN HISTORY BOOKS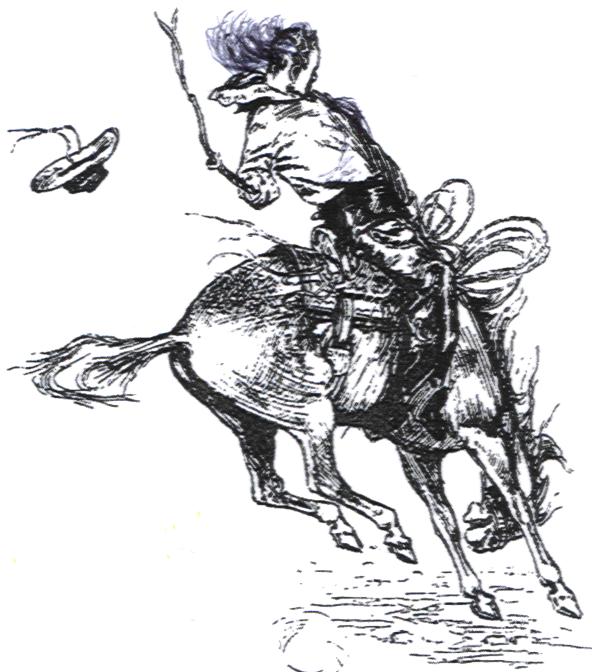 Calamity Jane on a Bucking Bronco in Horatio Maguire's Pamphlet
CHAPTER 56
THE RECKLESS BUCKAROO........... FALL-WINTER 1877
<![if !vml]><![endif]>
irl! What girl! I don't see anybody on a horse but that dare-devil boy yonder!"
"..[T]hat's a girl on that bucking cayuse; that's 'Calamity Jane.' "
Calamity slapped the mahogany bar and whooped. "Yahoo!" as Ed, the bartender read Horatio Maguire's The Black Hills and American Wonderland promotional pamphlet. She gulped from a frothy mug of beer, then urged, "Read more!"
Ed continued. "[S]he sat astride the fiery horse...with a cruel Spansh bit in its mouth....Throwing herself from side to side in the saddle,...she spurred her horse on up the gulch, over ditches and through reservoirs and mudholes...giving as good an imitation of a Sioux war-whoop as a feminine voice is capable of."
"Tarnation!" Calamity swore. "That there Maguire's whoppers're bigger'n mine! Jes' how'm I gonna live up ta that?
"Dunno," the bartender puzzled, "But you'd better figure it out. Fellow that gave me the book said he saw the same story in Denver's Rocky Mountain News and the Cheyenne Daily Leader on his way up here to Deadwood. Somebody told him it'd even been published in the eastern newspapers."
"Them there writens must come from locos smokin' Jimson weed. Why'd anyone bleeve whut they read in them thar newspapers? Gotta go. There's my best customer, Harry."
The band at the Bonanza dance hall on Lee Street blasted out "She'll Be Comin' 'Round The Mountain." Calamity grabbed Harry, then loped him across the room imitating a romping dance someone'd called the Lotta Gallop for actress Lotta Crabtree.
A week later, Calamity badgered Ed to read newspapers customers'd left behind. His reluctance piqued her interest.
"Somethin' stinks! Whut is it?"
Ed shook his head, then read an article in Deadwood's Daily Champion. "Calamity is a fraud. If she were judged on merit, a hundred waiter girls and mop squeezers in this gulch are her superiors....[H]er form and features are not only indifferent, but repulsive."
"Whut varmit writ that!" Calamity demanded.
"Charlie Collins owns the newspaper, but it says here that Dan Scott wrote the article."
Calamity stormed to the Daily Champion office. She burst through the door, rattling the glass panel as she slammed it behind her. "Whur's that critter whut writ this!" She whacked the newspaper on an old wooden desk.
Collins bounded out the back door headed for a gulch to hide out in until Calamity's rage cooled. Dan Scott stammered. "I'm a news man. I call it as I see it."
"Ya gol-danged skunk! Yur lower'n a buffalo chip--and smell worse." Calamity swore, whooped a wild war dance, then clicked her teeth. She leaped to tackle him.
"Stop right there!" Scott hollered raising his fists.
Calamity shoved everything off his desk. "I'm gunna clear this stinkin' chicken coop out!" she shouted.
"Calm down," Scott reasoned. "When I write another article, I'll correct it--alright?"
Calamity thought a moment, then stomped toward the doorway. "Nex' time's yur last chance. This here whip's not jes' fer looks ya know."
The September 20th Times' morning issue described a woman in men's clothing: "She is a low down idiotic sort of a prostitute who has been herding with Indians and soldiers for the past year." Before Ed could read it to Calamity, the after-noon paper arrived. The Times clarified that, after a full investigation, the woman mentioned in the morning paper was a Mrs. Bluxsom, not Deadwood's Calamity Jane.
As newspapers continued to print wild stories attributed to so-called "Calamity Janes," Calamity added their adventures to her own. "I dun 'at!" she claimed, beginning to believe the press' outrageous tales.
One snowy day, Ed greeted Calamity with a broad smile. He pointed at a 14-page booklet titled, Beadle Half Dime Library. "Came out in mid October. Listen to this. It's called, "Deadwood Dick, The Prince of the Road; or, The Black Rider of the Black Hills." As he read, customers gathered listening to the character called Calamity Jane repeatedly save the imaginery hero, Deadwood Dick. "As Deadwood Dick and Calamity Jane fight Cattymount Cass in a barroom brawl, bullets fly like hailstones, and men fall to the reeking floor each terrible moment." Ed finally concluded. "Calamity Jane ain't no fool. She's a dare-devil...the most reckless buckaroo in these Hills."
"Hurrah!" the customers yelled. "That's our Calaam!"
"Here, read 'em this," Calamity asked, pushing a tattered article toward Ed.
Ed poured drinks for everyone, then raised his hand for silence. "This is Colonel Clement A. Lounsberry's article in the Bismarck Tribune. "Never have I met a person more readily brought to tears by kind words or gentle reproof for evil deeds....She joined mining rushes, for a while was a prostitute, attempted to mend her ways, then joined General Crook as a scout, and afterwards became the lioness of the hills."
Ed toweled a glass. "Oughta put that on your tombstone--Calamity Jane, Lioness of the Hills!"
"Naw!" Calamity guffawed. "I want folks ta 'member me as tha reckless buckaroo whut saved Deadwood Dick!"
Reviews....Find Out # of Chapters in Your State . ..Table Of Contents
.Reader Letters ....About Us .....
Read Chapter 35 VIRGINIA CITY WILDFIRE