BIRTH OF AMERICA BOOKS (tm)
BOLD WOMEN, COLD GOLD, HARD MEN & HOT LEAD
[1869-1879]
REAL PEOPLE, TRUE STORIES
HISTORICALLY ACCURATE AND FUN TO READ
(They're written like novels with dialogue based on journals, diaries and newspapers)
HISTORY AS IT HAPPENS(tm) IN HIGH ACTION AMERICAN HISTORY BOOKS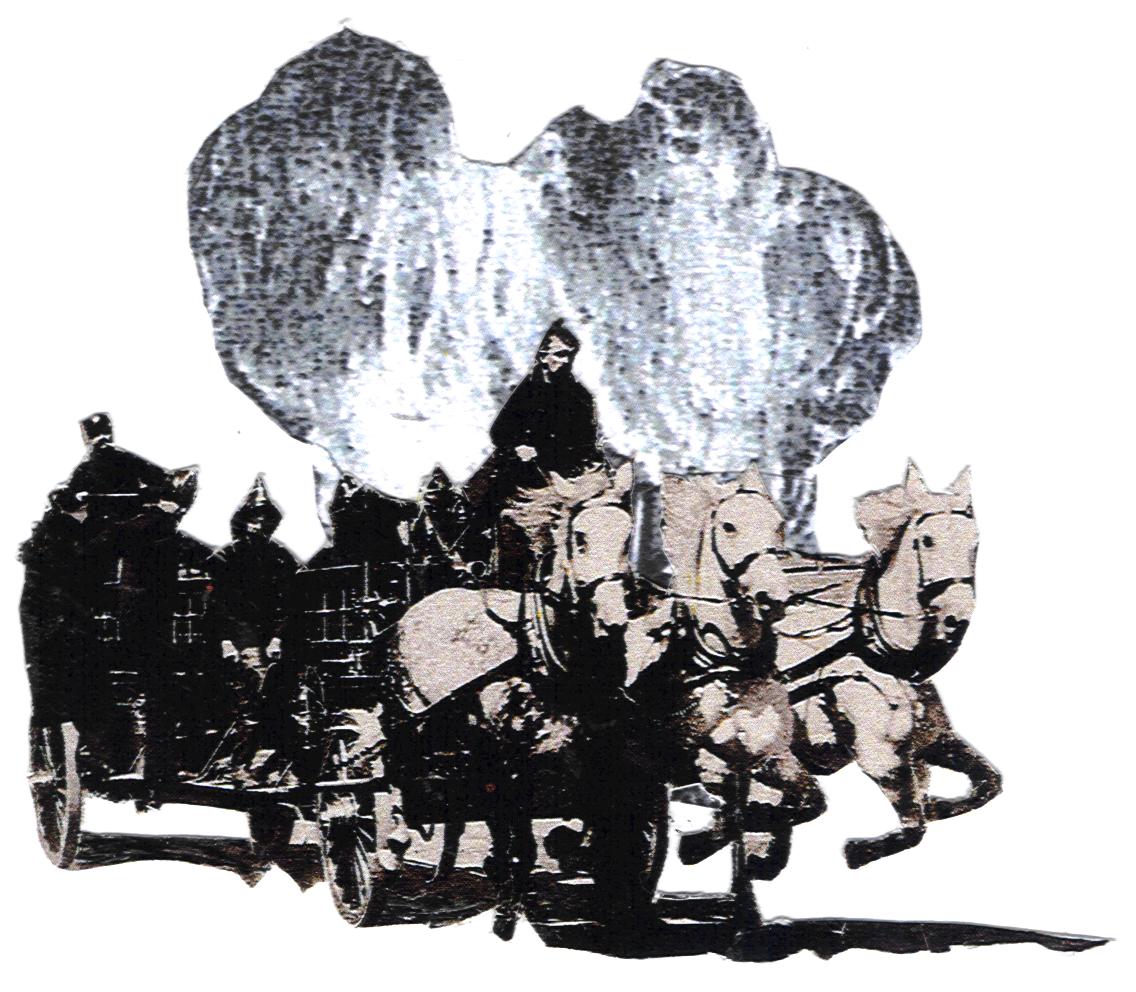 Firemen Fleeing Virginia City's Great Fire of 1875
CHAPTER 35
VIRGINIA CITY WILDFIRE ...........................FALL - LATE 1875
<![if !vml]><![endif]>
ctober 26, 1875's dawn began like any other morning at the Comstock rooming house of Crazy Kate Shea - with a brawl! The reeling boarder in her routine drunken row smashed the coal oil lamp, scattering its blue and yellow flames across the rotting cotton fabric covering her warping, bone-dry board walls. Her soused boarder staggered out through the squeaking door.
In her stupor, Crazy Kate thought so little of the bouncing blaze racing toward her roof, she savored a pull off her rye whiskey jug before the fire cavorted into her hair. It took her a few seconds to separate the stench of burning hair from other foul odors before she scrambled to douse her head in her scummy water bucket.
Crazy Kate walked outside with her water bucket before realizing she was naked. After tossing her water fecklessly on her burning A Street shack, Crazy Kate grabbed the overcoat inside her front door. Once in the smoking coat, she ran into the gale force west wind that blew her screams back down her throat and threw her shanty's fire at nearby dwellings.
As if the gale winds were not cruel enough, zephyrs descending from Mt. Davidson howled between structures like wolves from Hell, igniting "fire-safe" brick buildings along with wooden frame cohorts that had been homes, shops and surface mining buildings - but were now sacrifices to the Fire God.
As Virginia City awakened to the holocaust, human shouts were replaced by shots and blasts as hot bullets in stores and homes went off and barrels of gunpowder and mine explosives earthquaked Mt. Davidson and the rest of the town.
Frantic citizens shouted and beat on adjoining doors in hotels and on neighborhood streets to wake sleeping people. Everyone was making instant choices as to what was important enough to keep if one could not carry more. Refugees in various states of dress were blown before the wind, seeking shelter with friends and even strangers on the lee side of the gigantic fire.
Watching flames devouring a million feet of board lumber in sheds and shelters around his Con Virginia's surface buildings, John Mackay fell to his knees and begged, "Dear God Almighty, if You will stop the flames before they reach our wooden timbers below ground, I will build You 20 churches!"
To aid the Almighty in this salvaging task, Mackay had his powder monkeys dynamite all the buildings surrounding the Con Virginia complex. He still lost surface buildings, as did the Ophir and others. But deprived of available fuel by the dynamite, the starved blazes spared engineer Philip Deide-sheimer's millions of square-set timberings in all the mine tunnels crisscrossing under Virginia City. The greatest silver mines on earth were thus saved from mass cave-ins.
Bombastic winds blowing flames across empty streets convinced fire engine companies to flee for their lives.
Unbelievably, even as Virginia City was losing 2,000 buildings, Adolph Sutro's men were below digging their 8 x 12 foot tunnel. Unlike the flames dashing through the town above like a scorched cougar, Sutro's shaft crept along at what was for him an improvement -- 350 feet per month. His objective was still to hook up with the Savage Mine shaft to complete the four mile odyssey through rock, dirt and dirty tricks spawned by Mackay's Irishmen. Sutro worked with his men in 170° heat in swelling clay that clung to tools with the finality of death and the lethal cave-ins Mackay's mine had just been spared from.
When the wind fell dead, so did the fire - after burning 33 blocks in a half mile square of downtown Virginia City. Notable buildings turned to embers and ashes included the Catholic, Episcopal and Methodist churches, Piper's Opera House, the Bank of California's branch office, the Territorial Enterprise building, the freight and passenger depots of the Virginia & Truckee Railroad and hundreds of others.
Working out of the Gold Hill News' office, the reeling Territorial Enterprise under a headline "Virginia City Rocked by Fire" voiced the city's stupefied shock. ". . . A breath of hell melted the main portion of the town to ruins. Our eyes are still dazed by the lurid glare; our ears are still ringing with the chaos of sounds of a great city passing away on the whirlwind of a storm of fire. As the sun arose yesterday morning it turned to purple and black the smiling features of the most prosperous city on earth. Before the sun set, last night, the greater portion of that city had disappeared, and men and women and little children by hundreds and thousands, knew not where to get a morsel of food, or where to lay their heads. The catastrophe is appalling. Men give and receive cheerful salutations as they meet, and brave women smile out of countenance to the hard fate inflicted on them, but the heartaches abound, nevertheless.
We know our people will rally from this blow, that though houses have disappeared and vaults have been rent open by the fire, away down under the ruins there is a treasure-a dauntless spirit -- which will rebuild our city more staunch than before. But that promise of the future does not make lighter the suffering of the awful present. We beseech from this generous coast [ California] a full measure of their sympathy for our poor, for those who yesterday would have gladly helped them are themselves hopelessly poor today. Inclement winter; hundreds here have neither shelter nor food. . . . "
Carson City responded with three rail cars of provisions.
San Francisco and other California towns and cities contributed clothing, blankets, bedding, food and telegraphed money as if the people of Virginia City were their own sons and daughters.
Only two people died in the fire itself, and three men were killed by collapsing buildings they were trying to remove.
As if the people of Virginia City still needed more punishment, a week after the fire a tornado destroyed over 20 new buildings under construction. Without moaning, they resumed work on the jinxed buildings and completed them.
The aftermath of the fire reached in all directions. When U.S. Senator William Sharon of Nevada returned to California and booted his deceased business associate William Ralston's wife and five children out of their Belmont home so he could move his family in, the Territorial Enterprise said it would have to stop calling Sharon a hyena, since he was now under strong suspicion of being either a rat or a rattlesnake.
Big Bonanza money hauled away the holocaust's hideous remains and rebuilt its buildings grander than ever in little over 60 days. According to insurance claims and other information, total fire and tornado losses exceeded $10,000,000. The burnt St. Mary's in the Mountains Catholic Church had been among the most glorious religious structures in America and was soon resurrected with John Mackay's handsome gifts, including a huge bell cast from Comstock silver.
For the rest of 1875 and thereafter, John Mackay and his Irish Kings did everything they could, short of going to jail, to slow Sutro's tunnel. They were not motivated by wrath nor spite. It was merely self-preservation as the Irishers bored down through the 2,000 foot level while Sutro's mole men gnawed into Mt. Davidson's belly from the side. Stock speculators bet their hideout bankrolls that the Irishers were chasing a new silver bonanza into Mt. Davidson's entrails. The Irish Kings did not disavow this notion of impending megawealth. They fed it daily "inadvertent" newspaper clues and tiptoed to the bank with monstrous bags of undeserved stock dollars.
But in fact the Irish Kings expected to be exposed one day soon as a hoax when Sutro's tunnel probed their useless diggings below 2,000 feet - where there was no more silver. They had to shut Sutro's digging down before he let their non-silver cat out of the Con Virginia bag - whatever it took.
Table of Contents ............Reviews..............Find Out # of Chapters in Your State
Reader Letters......About Us ........
Read Chapter 56 THE RECKLESS BUCKAROO