BIRTH OF AMERICA BOOKS (tm)
REAL PEOPLE, TRUE STORIES
HISTORICALLY ACCURATE AND FUN TO READ
(They're written like novels with dialogue based on journals, diaries and newspapers)
HISTORY AS IT HAPPENS (tm) IN HIGH ACTION AMERICAN HISTORY BOOKS
ABOUT US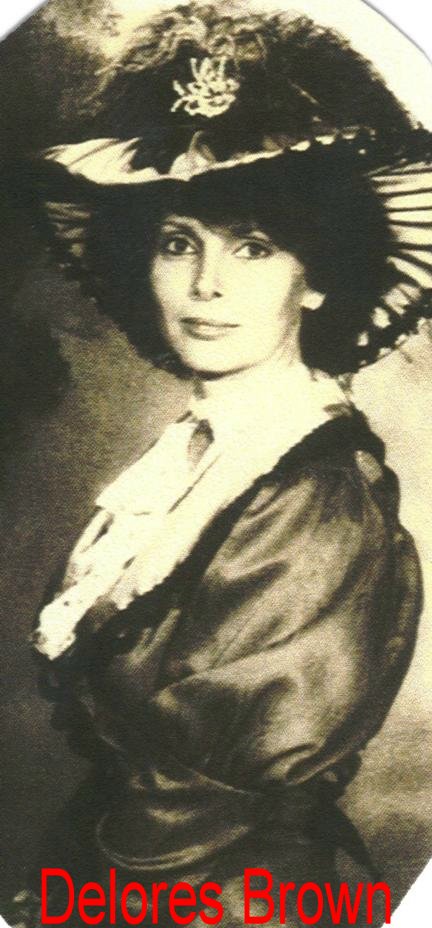 Delores M. Brown [married name Wiles] made her earthly debut in Chanute, Kansas.
At age one, she moved to Greeley, Colorado, where she grew up and graduated high school with honors. She did TV commercials and print modeling. She appears on the cover of Book 1 of this Series, The Blackjack Queen, Cutthroats and Good Time Girls of the Gold Rush [1849-1859], spearing the poker game's "extra" Ace of Spades with her Bowie Knife.
Delores served as a probate and litigation paralegal for over a decade, and has taken 40 college courses on historical and legal research techniques. Both she and husband Gary were certified to operate a public TV Station in Del Mar, California. Together, Delores and Gary have over 126 publishing credits for wild animal and horse photography in magazine articles, magazine covers, posters sold worldwide and the covers of many books, including all of their own.
While living in Laguna Niguel, from her own computer, Delores could access 1.7 million books in the Library of the University of California at Irvine, where she and Gary have lectured. Using UCI's Melvyl® password, she could reach 16 million more books on UC's other campuses. With the Internet's vast facilities, her research has become limitless.
For years she and Gary haunted the Western Regional office of the National Archives of the United States at Laguna Niguel, California, unearthing letters, diaries, Wills and journals to enhance their work and employ in original worded dialogue.
Delores is co-author and did most of the research for their six historical books. She and Gary perform in their eight AudiostageplaysÔ read from their books with sound effects and authentic period music. They lecture on their books for Colleges, Universities, Libraries, Museums, Military and Service Organizations. Gary is quick to point out that he is the one with the Doctorate, but Delores is the one with the brains.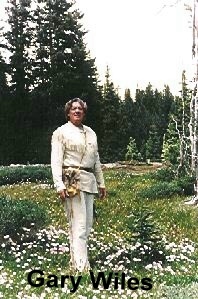 Gary H. Wiles first saw the light of day in Colorado's Rocky Mountains. As a boy, he worked his grandpa's cattle ranch
near Monument, Colorado and spent several summers driving trucks and blasting chunks out of mountains for his dad's dam and road construction outfit.
While working at a trucking company, he graduated from Chula Vista High School in California, then attended UCLA in 1950 on an NROTC Scholarship, which Gary aborted when he volunteered for the U.S. Army to serve in Korea.
Back home, Gary graveyarded in an urban slum as a cop, while attending San Diego State University by day. He's most proud of delivering five babies and being Godfather to three of them. After earning his BA in English, Gary served arrest warrants as a Deputy Marshal while attending the University of San Diego's night Law School for four years. He graduated second in his class as student body president with a Juris Doctorate.
Gary litigated antitrust and commercial cases throughout the United States for the next 30 years with a 93.57% trial success rate until retiring as the senior partner of the largest independent law firm in La Jolla, California.
He enjoyed numerous university photography and writing courses with classmate Delores. Gary and Delores wrote many published articles on horses and history. They traveled about 10,000 miles on the Oregon Trail and its tributaries, culminating in sales of a host of scenic and equine photos and an article on its sesquicentennial. Then they lost control, writing three high action history books in their HISTORY AS IT HAPPENS™ series about the stirring period from 1800 to 1836 featuring the westward expansion of the greatest country in the world, largely driven by the engine of the fur trade.
They've since written a rousing historical trilogy on America's western expansion in increments of one decade each between 1849 and 1879 fired by land acquired in the Mexican War, gold and silver rushes, America's Civil War, the trans-continental railroad and the emergent cattle industry with its rugged cowboys and range wars. Gary selected, contrived or created the graphics and maps for all of their six books.